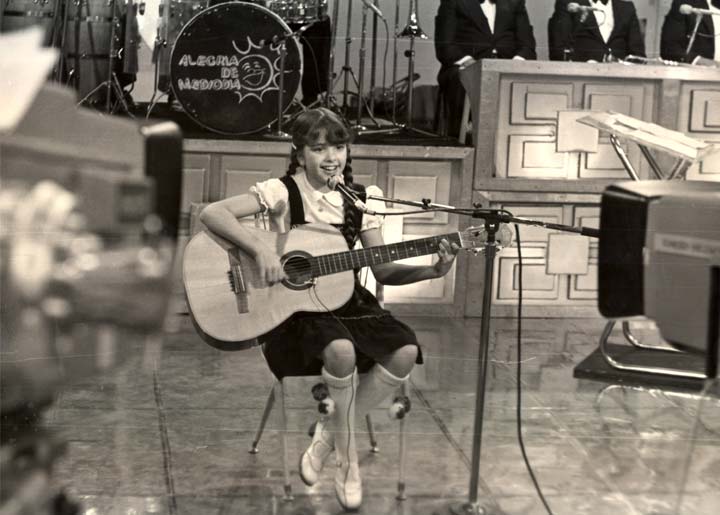 On August 29 of 1969, Lucero Hogaza León is born in Mexico City. Since she was a very little girl, she showed interest in acting and singing, preparing herself with dance and music lessons. In the year of 1980, with no more than 10 years old, she participates in the auditions for a children's program named Alegría de Medio Día where she performed along with her guitar and conquers the hearts of César González "El Pollo" who gives her her first opportunity with this prime time show along with other very talented children(Aleks Syntec, Usy Velasco, Carlos Espejel, Ginny Hoffman and many others).

In less than a year and after a big success, the show changes concept, schedule and name for Chiquilladas. Éste se ha convertido en uno de los programas icónicos de los años ochentas y gracias a el cual consigue grabar su primer álbum titulado Te Prometo. At the same time, and thanks to the support and trust of Raúl Velasco, she becomes the image of international shows as Juguemos a Cantar and América, esta es tu canción.
In 1982 she enters the world of the soap operas, with the main role in the children drama Chispita produced by Valentín Pimpstein, alongside with Angélica Aragón and Enrique Lizalde. This soap opera opened the doors for her career in the whole world because it became a success in every language that it has been translated.

The mexican film industry was the next goal, in 1983 and 1984 she starred the dramas Coqueta and Delincuente with her co-star Pedrito Fernández. In 1985 she participated in one of the most important films of the decade, Fiebre de Amor alongside with Luis Miguel.
Success remained constant while starring in movies like Escápate Conmigo with Manuel Mijares, Quisiera Ser Hombre with Guillermo Capetillo and Deliciosa Sinvergüenza. n music she continued to position with four more albums with hits like Con tan pocos años, Fuego y Ternura, and Todo el Amor del Mundo.

In 1988 releases the album that stablishes her as one of the youngest important figure, under the name Lucerito winner of golden and platinum record awards for themes like Vete con ella and Millones mejor que tú. To this success followed Cuéntame, record that also won golden and platinum record awards both in Mexico and Latinamerica.

In 1990 she ventures in ranchero music, being produced by Rubén Fuentes (composer and producer of big hits for Pedro Infante), releasing Con mi sentimiento. Gaining the trust of the audience she becomes one of the most important mexican female artists in the world.
In the same year she returns to soap operas alongside with producer Carla Estrada in When Love Arrives, and after the huge success of this soap opera, she continues to rise with Poor Relatives and Ties of Love, the later being one of the most important soap operas in the history of television.

She gains the title of America's Sweetheart after the success of the album by the name of Sólo pienso en ti, which was followed by several more records with hits like Electricidad, Ya No, Llorar, Tristes Recuerdos, Veleta and Sobreviviré. All selling millions of copies worldwide.
In 1997 and being in one of the highlights of her career, Lucero marries with Manuel Mijares. The wedding became an important even throughout Latinamerica and was broadcasted live nationwide. Months after she returned t the music with successful albums Piel de Ángel and Cerca de ti (Winner of the 1998 Billboard award), soon after she celebrated her first 20 years of artistic career in the Plaza de Toros México before more than 25,000 people. Un Lucero en la México was broadcasted on national television and due to its high sales became winner of several golden and platinum record awards.

The Telethon Foundation chooses Lucero in 1997 to become the face of this event for children with disabilities. In 2000 she releases the album Mi destino accompanied by the soap operaMi Destino Eres Tú, success with which she returns to the Festival de Viña del Mar becoming winner of the coveted Gaviota de Plata. In 2001 she takes a small break to enjoy her first pregnancy, giving birth to José Manuel.
2002 was a great year for she wins a golden record award for Un Nuevo Amor and shares the stage at the Auditorio Nacional with the successful Spanish tenor Plácido Domingo before more than 10,000 spectators. Soon after she stars in theaters Regina where she receives 100 standing ovations for her 100 performances of the play, then she returns to the silver screen with Zapata. Considered as one of the most expensive projects on the Mexican film industry, directed by Alfonso Arau, photography by Vittorio Storaro and co-starring with Alejandro Fernández, Jaime Camil and Patricia Velázquez.
During her second pregnancy she promotes the ranchero album Cuando Sale Un Lucero winning several awards and a golden record due to its high sales with hits like Vete por donde llegaste and Entre la espada y la pared.

Her return to soap operas is with The Dawning, a majestic production of Carla Estrada located in the 1800's, which won her an Emmy Award for Best Lead Actress in 2005.

Quiéreme Tal Como Soy becomes golden record in 2006 thanks to hits like La única que te entiende and O tú o nada. In 2008 she delivers to her followers one of the most memorable villains in the history of soap operas, Bárbara Greco (The Hyena). Tomorrow is forever broke audience levels worldwide.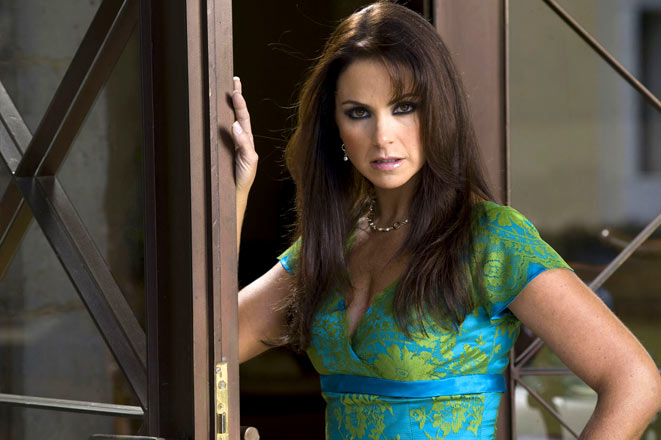 The ratings of Mexican soap operas never raised so high as they did in the United States on 2010 when Univision aired A Woman of steel, exceeding even the ones from CBS and NBC. In the same year she returned to pop music with the album Indispensable, reaching the new generations with an electronic sound with singles such as Indispensable, Amor Virtual, and Esta vez la primera soy yo.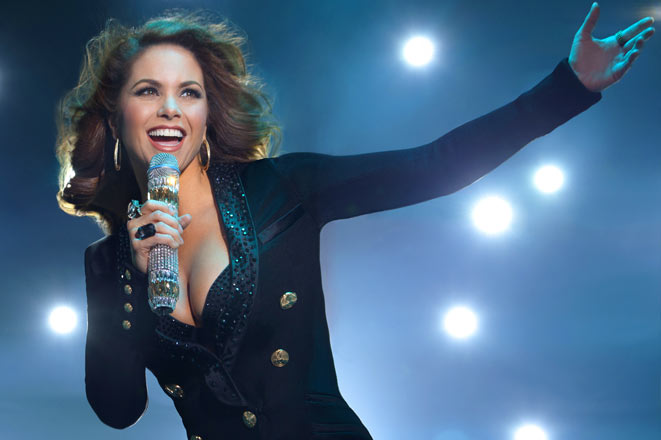 In 2011 she releases the album Mi Secreto de Amor and Pantene chooses her to promote their product line in Latin America, signing a three-year contract as its official spokeswoman.

In 2012 she stars in a comic soap opera alongside with Jaime Camil. Me, her and Eva had the viewers hooked up with the plot. The main song for the soap opera, No me dejes ir was written by Lucero and immediately reached the top charts of the radio. Celebrating at the Auditorio Nacional, with a live CD and DVD that reunite her greatest hits under the name Lucero en Concierto

The first season of The Voice in Mexico was led by Lucero, Alex Syntec, Alejandro Sanz and Espinosa Paz as the coaches, captivating the young audience once again.
In 2014 Telemundo invited her to be the main host of the reality show I am the artist, where she shared the screen with Olga Tañón and Luis Fonsi. During the success of the show she released her latest album Aquí Estoy, tribute to one of the most important Mexican singer-songriter, Anda Gabriel, with singles like Quién como tú and No Entiendo. In 2016 the most important television company in Brasil SBT, invited her to lead the cast for Carinha de Anjo, a soapopera in portuguese. Immediately she became the most beloved mexican artist in Brazil, breaking records in audience levels. In 2017 she releases the albums Brasileira in portuguese and Enamorada con Banda in spanish so she can tour Latinamerica. With this last album she was rewarded with a golden album after the big sales it had in America and Europe. She also obtained the Female Singer of the Year Award in 2017 and 2019. Now she's promoting her third album on banda sinaloense style Solo Me Faltabas Tú which leads her into more popular in banda sinaloense's genre. She's also now celebrating 40 years of successful career.